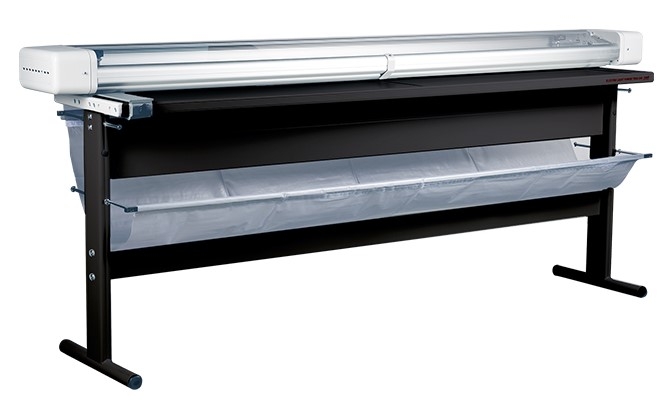 Neolt
Powertrim (several sizes)
 ***** 200 cm wide electric Cutter € 500,- (special offer) ****
The Neolt Electro Power Trim is the high-performance electric cutter, designed with the most advanced technological features and available in a wide range of cutting widths.
The availability of different sizes between 1.45 to 3.6 meters makes it the perfect complement to all operators of digital printing that operate superwide format inkjet printers.
OPTIONS / ACCESSORIES
Among the options the sheet-holder (in sizes up to 250) and the reel-holder. The "Special" version, available on request, comes with speed adjustment and the ability to select two cutting lengths, up to half-size or full-size.
MAIN FEATURES
Electro Power Trim has a robust rotating blade cutting head in hardened steel, mounted on a square sliding bar, and a fixed blade in painted stainless steel mounted on a reinforced cutting table.
Among the advanced features the horizontal output of the material on the back or into the waste collection container. The metal parts are painted with epoxy powders providing maximum resistance to cuts and scratches.
The standard version includes a stand for ground positioning with adjustable feet, the container for waste collection, the adjustable guides, a cutting-line fluorescent wire and the lamp for lighting the cutting area.
The sheet holder is also included in the 300 and 360 versions.
€ 500,-