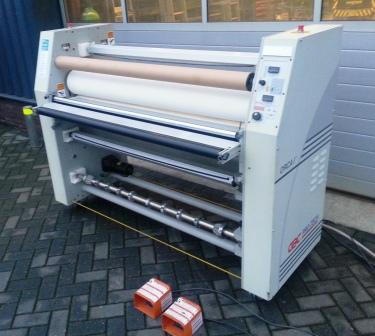 GBC
Pro-Tech Orca I
GBC Protech Orca 1 Dual Roll Laminator . Laminates media up to 155 cm wide. Applies Hot & Cold (PSA) film laminates for water, abrasion, UV and chemical protection. 3 unwinds and 2 rewinds. Pneumatic Roller Pressure. Built to Last in the USA.
Electrical: 220-240 VAC, 50/60 Hz.
Laminating Rolls: 61″ (155 cm) roll face with high release surface.
Opening: 1.5″ (3.8 cm) maximum opening.
Laminating Material: Uses heat activated and pressure-sensitive materials on a 3″ (7.6 cm) ID core, 10″ (25.4 cm) maximum diameter.
Laminating Speeds: 0 to 14 fmp (0 to 4.3 mpm) with variable speed, reversible action, start and stop controlled either through the instrument panel or with the footswitch.
Encapsulating Features: Pull rolls and cooling fans for uniform flat cooling.
Safety Features: Photoelectric eyes prevent laminating roll movement if objects are in the nip area.
All electrical and moving mechanical parts are located in bolted cabinets.
2 emergency stop buttons, 2 emergency kick cables.
Standard Features: Outfeed Slitters.
NOTE: this machine currently has no heating elements (rollers are cold).
€ on request